The job application process can often be lengthy and convoluted, leaving both recruiters and applicants feeling overwhelmed. Fortunately, automation can significantly streamline the experience. We'll explore a specific workflow I designed in HubSpot that incorporates a quiz, automates contact creation, and tracks a candidate's application from start to finish using tickets. This process saves time and enhances the candidate experience by keeping them informed every step of the way.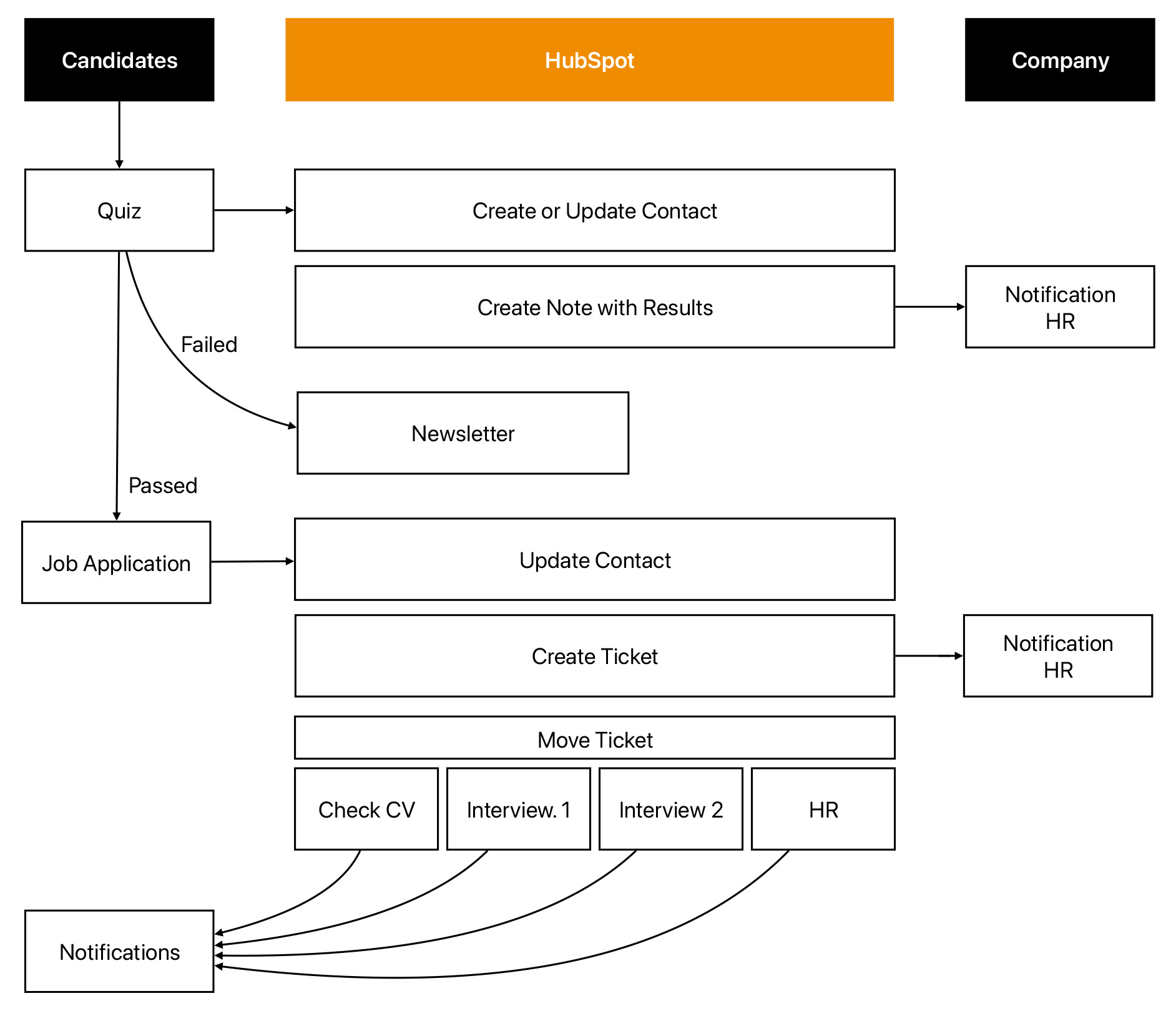 Streamlining the Job Application Process with HubSpot: A Step-by-Step Guide
The Problem: Traditional Job Applications
Traditional job applications require a candidate to fill out extensive forms, go through multiple rounds of interviews, and often wait in limbo for weeks. This can create a poor candidate experience and requires recruiters to manually track and manage dozens, if not hundreds, of applications.
The Solution: HubSpot's Automated Workflow
Step 1. The Screening Quiz:

Firstly, prospective candidates are directed to take a quiz. This quiz is an initial screening tool to assess basic qualifications and fit for the role. When a candidate takes the examination, HubSpot automatically creates a contact for that individual and attaches their quiz responses as a note.

Step 2. The Application Form:

If the candidate passes the quiz, they are invited to submit their full job application via a HubSpot form. Completing this form generates another contact record (if they haven't already been registered as a contact) and also initiates a ticket. This ticket will serve as the main tracking object for the application process.

Step 3. Moving Through Stages:

Once the ticket is created, it is moved through various stages in HubSpot to indicate progress in the application process. These stages can be customized but may include things like 'Screening,' 'First Interview,' 'Second Interview,' and 'Offer Extended.' Each time the ticket moves to a new stage, the candidate is automatically informed via an email or message, keeping them in the loop and enhancing the applicant experience.
Step 4. Final Status and Onboarding:

When a decision has been made, the ticket moves to the final stage, such as 'Hired' or 'Not Selected,' and an automated message is sent to the candidate informing them of the outcome. For successful candidates, this can seamlessly lead into an onboarding workflow, also automated via HubSpot.
Benefits of Using HubSpot for Job Applications
Efficiency: The automated workflow ensures that every candidate goes through the same standardized, efficient process.
Candidate Experience: Automated updates keep candidates informed, reducing the anxiety and uncertainty that often comes with job applications.
Streamlined Communication: Having all candidate information and application statuses in one place improves communication among recruiting team members.
Scalability: The automated workflow can easily be scaled up for larger recruiting efforts or adapted for different roles.
In today's fast-paced world, efficiency and a positive candidate experience are more important than ever for recruiting top talent. By automating the job application process through HubSpot, you can optimize both while making life easier for your HR team. If you have any questions or need help building something simular, please reach out anytime.