Are you an event manager or running a tourist attraction? Are you aiming to deliver an unforgettable customer experience from ticket purchase to post-event? Leveraging the power of Webhooks and HubSpot Deal Cards can help you do just that. In this SEO-optimized blog post, we'll explore how to streamline customer management, automate reminders, and customize post-event surveys for a personalized customer journey.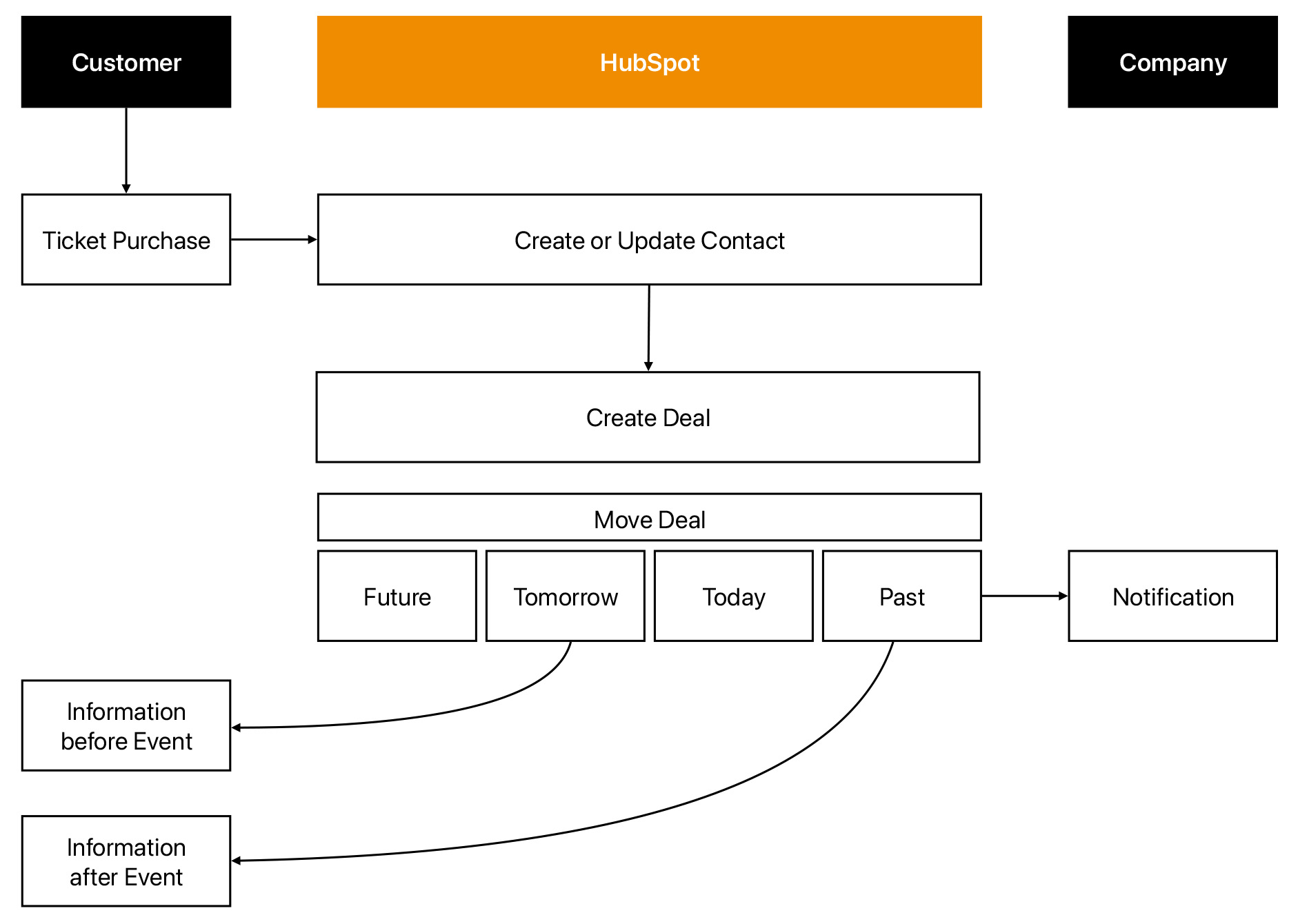 How to Enhance Customer Experience with Webhooks and HubSpot Deal Cards for Events and Tourist Attractions

What are Webhooks and HubSpot Deal Cards? A Perfect Pair for Event and Tourist Businesses
When a customer books a ticket to your event or tourist attraction, webhooks can automatically sync this transaction data with your HubSpot account, creating an organized Deal Card. These Deal Cards can then be sorted into four key stages — Future Tickets, Tomorrow, Today, and Past — for an optimized customer experience.
The Four Stages of HubSpot Deal Cards for Effective Customer Journey Mapping
Future Tickets:

The storage for all bookings in the future. The deal cards wait for her until the day before the event happens.

Tomorrow:

Trigger personalized, automated email reminders a day before the event to customers in this stage.

Today:

A dashboard for your team to manage real-time, same-day customer interactions. Based on that, you see how many people are at your location, what they booked, and where they go from there.

Past:

A crucial stage for post-event engagement, including tailored surveys and thank-you notes. And also keep the customer in the loop to bring him back at another time.
The Importance of Customized Reminders for Event and Tourist Business Success
Utilizing HubSpot's automated emails for the "Tomorrow" stage ensures customers receive event details and personalized tips the night before. If your Deal Card indicates a family-friendly or pet-friendly ticket, these details can be included in the pre-event email.
How to Improve Post-Event Customer Engagement in Your Event or Tourist Business
A survey tailored to the HubSpot Deal Card data is sent a few days post-event. This captures valuable customer preferences and experiences insights, influencing future events and tailored marketing campaigns.
Building a Comprehensive Customer Profile for Future Marketing Strategies
Accumulating and analyzing data from webhooks and HubSpot Deal Cards helps to build a comprehensive customer profile. This rich data can be a goldmine for personalized marketing efforts, offering targeted recommendations and promotions to customers based on their past behavior.
Conclusion: Webhooks and HubSpot—The Future of Customer Experience Management for Event and Tourist Businesses
Enhance your customer's journey from start to finish with the automation and personalization capabilities of webhooks and HubSpot Deal Cards. Elevate your event or tourist business today by employing these tools to deliver superior customer experiences. If you have any questions or want to see more about how I built it, please reach out anytime.