Revolutionize Networking with Yohop's vCard Generator and our Free HubSpot Theme
Networking is the lifeblood of any business, but more than traditional methods is required. Embracing the digital revolution is essential, and Yohop's vCard Generator, available at yohop.io, paired with our free HubSpot theme, is a trailblazer in this transformation. Let's explore this robust tool and understand why it answers modern-day networking needs.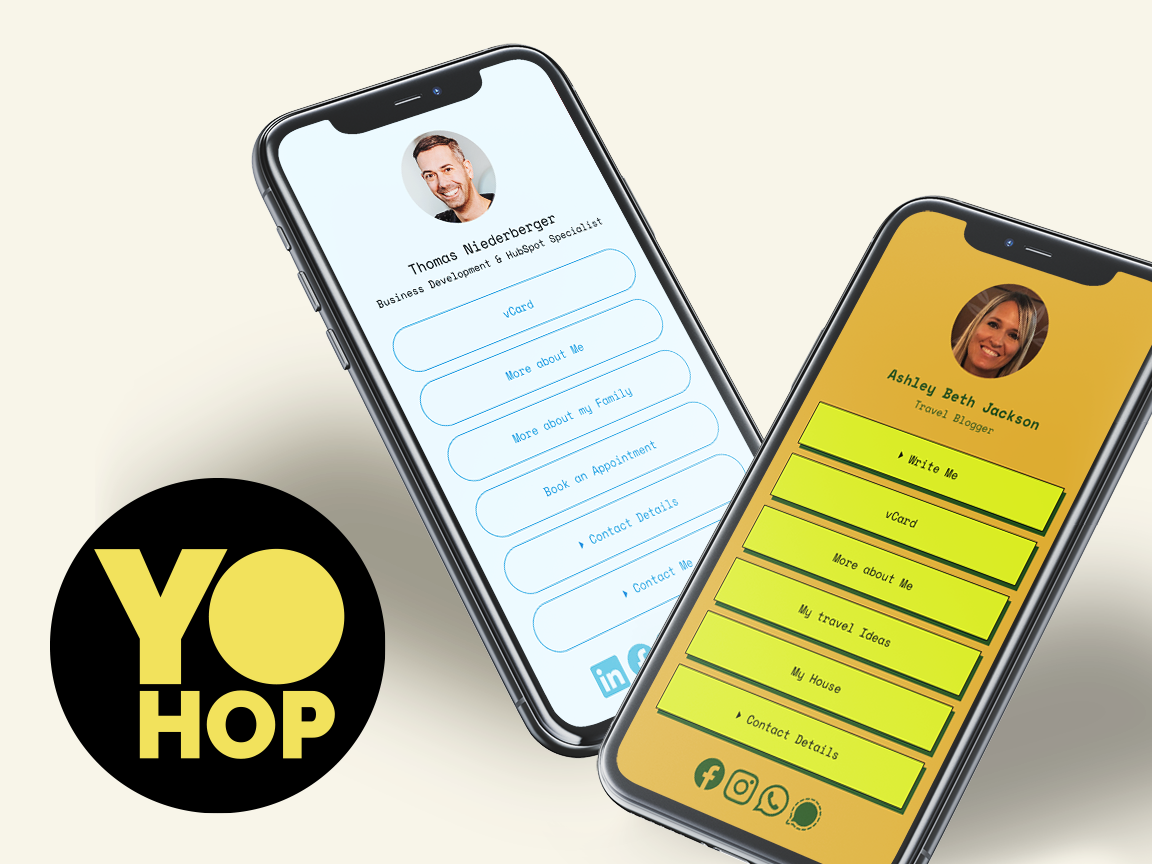 What is a vCard?
A vCard is a digital business card stored in a *.vcf file. This electronic format retains all your crucial contact details, including emails, phone numbers, addresses, etc. Various applications and email clients, such as Microsoft Outlook, recognize vCards, making them universally accessible.
The Compelling Advantages of vCards
The shift from physical cards to vCards is not just a trend; it's a necessity. Here's why:

Ease of Use: Share your business details with just one click, saving your contacts the hassle of manual entry.
Professionalism: With Yohop's vCard generator, your contacts receive an aesthetically appealing, well-designed digital card that adds a professional touch.
Eco-Friendly: Going paperless with vCards is a significant step towards sustainability.
Versatility: Send your vCard via cell phone or email or upload it to your website. The possibilities are endless.
Introducing Yohop: A Free HubSpot Theme
If you want to create an outstanding link page to house all your professional connections, look no further than Yohop. This free HubSpot theme allows you to:
Add Links to Social Profiles: Centralize all your social media profiles in one place.
Embed HubSpot Forms and Meeting Calendars: Facilitate direct communication by embedding HubSpot forms and Meeting calendars. Your contacts can reach you without leaving the page!
Include Your vCard: Allow customers and friends to download your vCard, created with yohop.io or any other tool.
Conclusion
Yohop's vCard generator and free HubSpot theme provide an all-encompassing solution for today's connected world. Everything has been carefully crafted, from aesthetics to functionality, to fit your needs.
Are you ready to leap into the future of business networking? Visit yohop.io now and make the smart switch to digital business cards. With Yohop, networking is no longer about exchanging pieces of paper; it's about building connections, fostering relationships, and embracing technology.